Description
When it comes to making a statement, nothing beats the impact of our Outdoor Mesh Banners. Designed to withstand the elements while delivering your message loud and clear, these banners are the go-to choice for businesses, events, and promotions that demand attention.
🏞️ Built to Brave the Great Outdoors 🏞️ Our Outdoor Mesh Banners are engineered to thrive in challenging conditions. Crafted from high-quality, durable materials, they are wind and weather resistant, making them the perfect choice for both sunny days and stormy nights. You can trust that your message will shine through, rain or shine.
🌬️ Mesh Technology for Wind Resistance 🌬️ What sets our banners apart is their innovative mesh design. Tiny perforations in the material allow air to pass through, minimizing wind resistance and ensuring that your banner stays securely in place. No more flapping banners causing distractions – our mesh banners stay put and keep your message front and center.
🎨 Vibrant, Eye-Catching Graphics 🎨 Don't compromise on visual impact. Our printing technology ensures that your graphics are sharp, vibrant, and attention-grabbing. Whether you're promoting a grand opening, a community event, or a special sale, our mesh banners make sure your message is seen from afar.
📐 Custom Sizes and Designs 📐 Every message is unique, and so are our banners. Choose from a range of sizes to suit your specific needs. We are ready to work with you to create a custom banner that reflects your brand and conveys your message effectively. From eye-catching logos to detailed event information, we've got you covered.
🚀 Easy Installation and Versatility 🚀 Installing our Outdoor Mesh Banners is a breeze. With grommets strategically placed for easy hanging, you can display your banner practically anywhere – from fences to storefronts, sports events to trade shows, and everything in between.
📦 Order Your Outdoor Mesh Banners Today! 📦 Ready to make your message stand out in the great outdoors? Order your Outdoor Mesh Banners from us today! We offer competitive prices, quick turnaround times, and a commitment to your satisfaction.
Experience the power of Outdoor Mesh Banners – where durability, visibility, and style meet. Make your message shine, no matter the weather! 🌦️🚩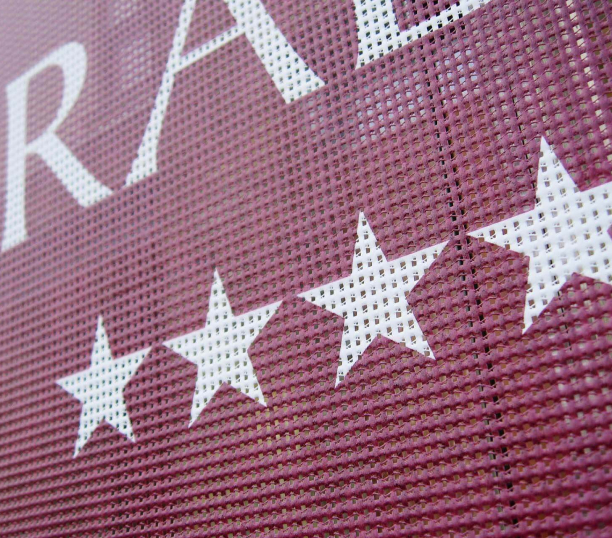 8oz Polyester Mesh
Polyester mesh is lightweight yet strong. The weave of this polyester scrim facilitates air flow, giving it extra durability without making the banner heavy. The caliper is at approximately 16 mil.